Dental Crowns & Bridges

in Munford, TN
Dental crowns are tooth-colored caps that are made to mimic the natural appearance of the patient's teeth. Dental bridges are essentially three or more crowns that are attached together. Once a tooth has been reshaped, the restoration can be placed, and the patient is free to show off their new smile! To learn more about our restorative services, please get in touch with our friendly front office team, and we'll be happy to assist you.
Contact Us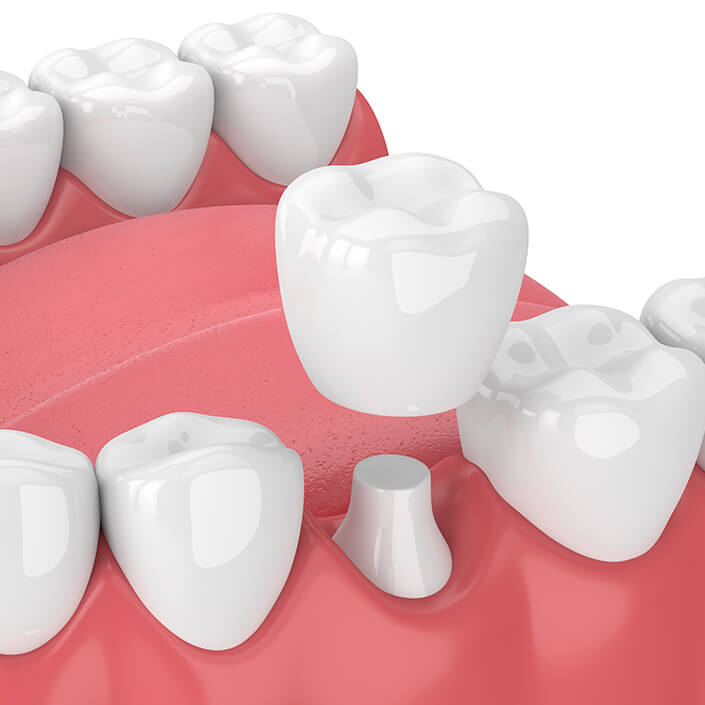 What can dental crowns and bridges be used for?
Custom dental crowns are commonly used for a variety of reasons, including:
Strengthening weak teeth
Protecting worn-down teeth from further damage
Holding damaged teeth together
Covering a dental implant
Covering misshapen or discolored teeth
Replacing a missing tooth (dental bridges)
When can I return to work or school after receiving a crown or bridge?
Dental crowns and bridges are minimally-invasive restorative treatments, so patients can typically return to work or school right away post-treatment. If you utilize nitrous oxide sedation during your treatment, you may want to wait in our lobby for a little while to ensure that all of the effects wear off, but otherwise, you're free to go about your normal routine. It's a good idea to wait until the numbness wears off in your mouth before you try to eat anything, and you should stick to soft foods and chew with the other side of your mouth for a while.
Are dental crowns better than bridges or veneers?
Dental crowns, bridges, and veneers are all excellent treatment options that are used by different patients for different reasons. Dental crowns are placed over a single tooth and can be used to restore front teeth and molars. Dental bridges are used for many of the same reasons as crowns, but they cover two or more teeth at a time and can be used to replace missing teeth as well. Veneers are generally only used to restore and enhance the front teeth that show when a patient smiles. Our team would be happy to help you find the right option for your smile!
Contact Us